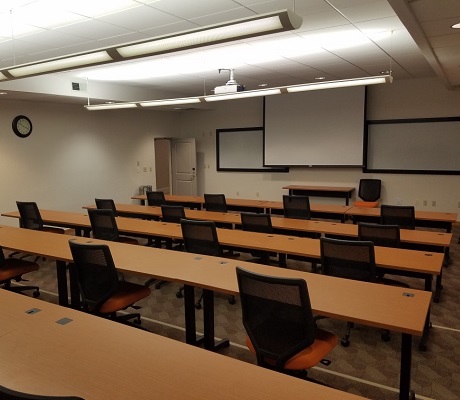 Our professional staff is committed to making every gathering a success.
Anniversary Celebrations
Banquets
Business Meetings
Class Reunions
Fundraisers
Group Trainings
Holiday Parties
Rehearsal Dinners
Wedding Ceremonies and Receptions
Ameche Ballroom
The Ameche Ballroom can be divided into two spacious rooms for many different uses and seating layouts. Twelve large windows on the south wall provide natural lighting and create a comfortable meeting/event atmosphere. A 20-foot screen serves the presentation needs of our clients.
Bascom Meeting Room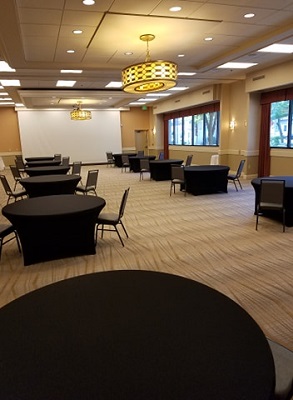 The 1,300 square feet of the Bascom Room accommodate a variety of seating configurations. The liberal, unobstructed space of this room has made it a favorite of educators and meeting planners alike.
Van Hise Room
The Van Hise room is ideal for an intimate function. The room can accommodate meetings for up to 25 or meals for up to 32 guests.
Executive Board Room
Our Executive Board Room is designed to encourage discussion and work in a private, comfortable setting. The room features executive seating, glass block windows, a Mondo Board, individual climate control and an adjustable ceiling fan.
Graaskamp Room
This is a professional classroom with wireless connectivity and hard-wired workstations for network and video conferencing capabilities. The tiered seating allows for optimal acoustics and visibility. The first two rows are mobile, allowing for seating flexibility for meetings of up to 40 people.
The Best Western Plus InnTowner Madison specializes in providing a superior meeting experience.
Kindly note that all food and beverage items must be purchased through and provided by the hotel.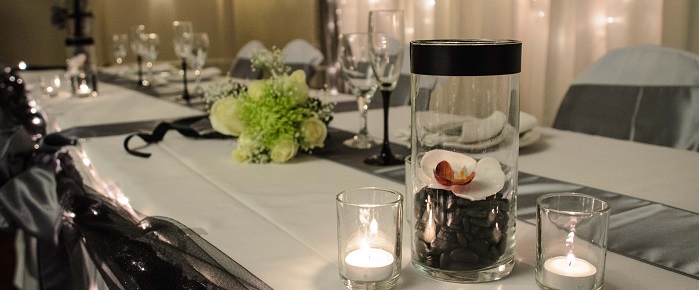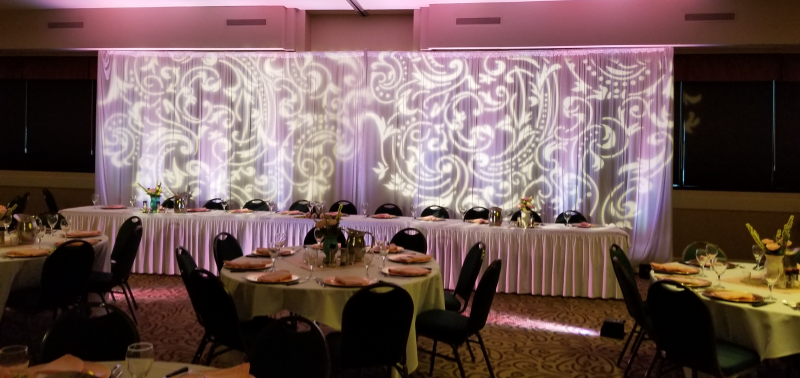 With a multimillion dollar makeover in 2016, the Best Western Plus InnTowner Madison continues to be a choice hotel for many couples as the Best Western Plus InnTowner Madison is a Madison tradition for intimate receptions and weddings. From large celebrations to small intimate gatherings, the Best Western Plus InnTowner Madison's Team provides the attention to detail and the quality of service you deserve on your special day.
Our Facilities:
Ameche Grand Ballroom
Our Ameche Grand Ballroom features twelve large windows for natural lighting in addition to a twelve-foot ceiling. Our ballroom can accommodate up to 120 guests comfortably. Enjoy the new look and feel of this most popular room.
Bascom Meeting Room
The quaint Bascom Room accommodates a variety of seating configurations. The unobstructed space of this room has made it a favorite of all brides with the ability to entertain up to 100 guests.
Van Hise Room
For an intimate reception or a gift opening, look no further than the Van Hise Room. This private room can accommodate up to 50 guests for your special occasion.
Evening Wedding Package
The Best Western Plus InnTowner Madison is pleased to offer a complete wedding package on your special day
Date exclusivity for your reception
Champagne Toast for wedding party
Complimentary suite for the wedding couple
Complimentary cake cutting and serving
Complimentary taste testing
Complimentary room for gift opening
Wedding Coordinator on-site
Hardwood dance floor provided - new in 2015
Banquet tables set with china, glass, and silverware
Discounted rates on guest room blocks (based on availability)
Prime central Madison location
Rehearsal Dinners
Served plated or buffet-style, we can accommodate groups of 10 people to up to 175 people in one of our private banquet rooms.
Select items off the Highland Corner Grill restaurant menu, or customize your meal via our Wedding Planning Guide.
Late Night Snack
Select items off the hors d'oeuvres menu to keep the party going strong as the night goes on.
Invite your closest friends and family on your special night in a private room with an array of dining and beverage options.
Allow our team at the InnTowner take care of your guests on this joyous occasion!
The Best Western Plus InnTowner Madison specializes in providing a hassle free experience for you and your guests on your special day.
Banquet Room Reservations
Room rental fee is $800.00 for the Ameche Ballroom and $400.00 for the Bascom Banquet room, which includes all linens, formal tableware, set-up and take-down.
Contact the on site Wedding Planner at the InnTowner and allow us to assist you with the planning of your special day. We aim to keep it simple, memorable and within your budget.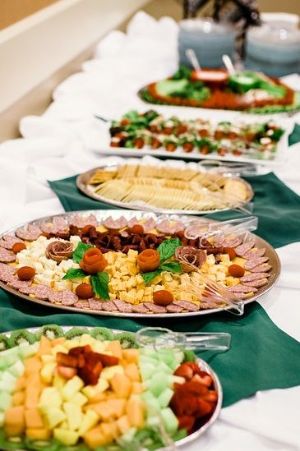 Our professional Catering Team skillfully provides businesses, athletic and youth banquets as well as wedding receptions and, holiday gatherings with top notch food and beverages offerings.
The Best Western Plus InnTowner Madison's catering team also professionally executes off site catering events in the client's place of business, meeting venue or home including:
Hot or Cold buffets
Appetizers - Hot or Cold
Boxed lunches
Custom Made Pizza Parties
Our banquet staff is also able to take your idea or banquet theme and decorate our reception rooms accordingly.
Satisfied clients include:
UW Badger Athletics
The WIAA
Regent Neighborhood Association
Susan G. Komen
The Fiore Companies
Forest Product Labs
UW CALS
For more information please contact Haley Sinklair our Sales & Banquet Coordinator at 608-233-1836.